Update on Saeed Malekpour, Imprisoned Programmer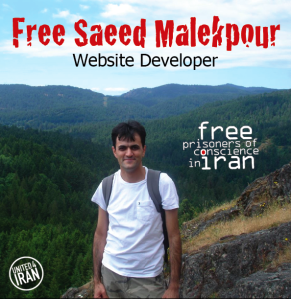 I first mentioned the case of the Canadian-Iranian programmer sentenced to death here. There have been several developments since then, which I round up here.
CNN on the reliability of the Iranian judicial system:
Malekpour, who is a Toronto resident, was arrested in October 2008 while visiting relatives in Iran. He was convicted in a short trial and was sentenced to death in October 2011, according to Amnesty International.

Iran's Supreme Court confirmed the sentence on January 17. Malekpour's lawyers have been unable to ascertain the whereabouts of his court files since Tuesday and fear this could be an indicator that an executioner could carry out the sentence soon, Amnesty said. A court official suggested to the lawyers that the file had been sent to the Office for the Implementation of Sentences, according to Amnesty.
Toronto Star on the political climate in Iran:
Human rights monitors say executions in Iran have been accelerating at an alarming pace. Amnesty International's official count for 2010 was 252, but the actual number is believed to be double that — more than 600 people in 2011, and 59 last month alone....

Since Malekpour's arrest, the Revolutionary Guard has accelerated its assault on the Internet. A March 2 parliamentary election is nearing, and with it efforts to stamp out the kind of social networking that led to the Arab Spring.
National Post on Canada's reaction:
Twenty-five senators called Tuesday for the immediate release of 25 political prisoners in Iran, including a computer programmer and Canadian resident who is now on death row....

Relations between Canada and Iran are at their lowest point in decades, as Canada and its allies step up sanctions in a so-far futile attempt to curb Tehran's nuclear ambitions. On Jan. 31, Canada ratcheted up sanctions again, freezing assets of Iranian officials and entities.
It seems significant that Iran will hold a civilian programmer for 1,238 days (and counting) for political crimes, when back in 2007 it held British navy personnel for just 13 days. Whether the Canadian government will be able to send a credible signal that it values Saeed's release remains to be seen.
Iran appears to be increasingly willing to upset the international community. Hopefully Iranian leaders do not take up the mindset that Saddam Hussein had in 1990-1 that war has already become inevitable. When one side believes that, it is usually right.