Peru Claims Shining Path 'Defeated'
[caption id="attachment_872" align="alignright" width="300" caption="The capture of Peruvian terrorists, brought to you by Gatorade"]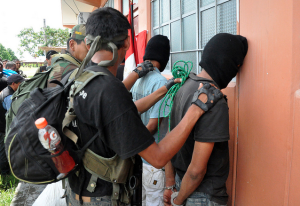 [/caption]
From the BBC:
[Peruvian President] Humala said the capture of Shining Path leader Freddy Arenas this week signalled the end of the Maoist guerrillas in the Alto Huallaga Valley.

The Shining Path posed a major challenge to the Peruvian state in the 1980s but has since dwindled.

Small gangs remain in the south-east, where they run much of the drug trade.

The announcement came a day after Peruvian security forces made public the arrest of Mr Arenas in the Alto Huallaga Valley....

The security forces said Mr Arenas, better known as Braulio, took over the leadership of the Shining Path in the region after the arrests earlier this year of previous leaders Comrade Artemio and Walter Diaz.

"Not only have we caught the last of the historic leaders, Artemio, but also those leaders who took over from him, totally defeating them," President Humala told TV Peru.
Readers familiar with Sendero Luminoso will recall that similar remarks were made in the early 1990's when the organizations founder Guzman was captured. In a May 19, 1993, article in The Guardian, then-president Fujimori was quoted as saying: "The people are convinced terrorism will be overcome and they're replying by going to work. If we continue like this, Sendero will soon be defeated."
In December, 1994, the mayor of Ayacucho (the city where Sendero was founded) said "without reservation that the Shining Path no longer exists in the place where it was born," according to the New York Times. Maybe this time the politicians are right.