Wednesday Nerd Fun: The Sounds of America
[caption id="attachment_1233" align="alignright" width="300"]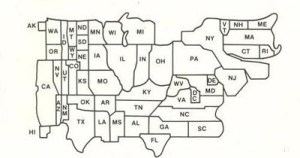 DARE's Linguistic Map of the US[/caption]
The Dictionary of American Regional English (DARE) is a project initiated almost 50 years ago to document "words, phrases, and pronunciations that vary from one place to another place across the United States." The map at the right gives a sense of how much variation field interviewers found between 1965 and 1970. Beginning with those interviews DARE has grown to five volumes, the last of which is now available.
One technique that the interviewers used to record regional dialects was a story called "Arthur the Rat." The story's main purpose was to include almost all of the sounds of American English when read aloud. A sample recording includes speakers from Brooklyn, Boston, Memphis, and rural areas across the country. Over 800 recordings were made, all of which have been digitized in a collection at the University of Wisonsin.
The DARE website also includes features such as quizzes to test your knowledge of American English and a word of the month. Did you know google dates back to 1859? Happy 4th of July!