Wednesday Nerd Fun: TV Writers Podcast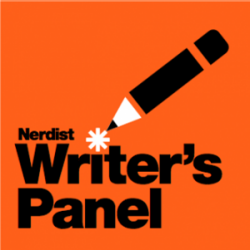 From June Thomas:
The format of the Nerdist Writers Panel is pretty straightforward. Host Ben Blacker, a writer with credits on Supah Ninjas and Supernatural, interviews TV writers—often in groups of three, but occasionally one-on-one—about how they broke into the business, their experiences working on various shows, and how different showrunners, writers rooms, and networks operate. The discussions are usually taped in front of an audience (the shows benefit nonprofit tutoring program 826LA), and attract an impressive array of guests, including Breaking Bad's Vince Gilligan, Lost's Damon Lindelof, Justified's Graham Yost, and Community's Dan Harmon. Blacker is a skilful interviewer who keeps the conversation moving, asks follow-ups when they're needed, and doesn't shy away from sensitive topics.
You can find the complete Writers Panel podcast archives at Nerdist or iTunes.