DTO Leadership Targeting Increased Violence, Multiplied Cartels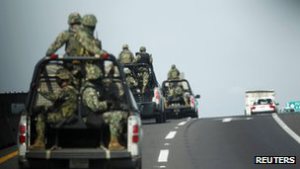 Now that President Felipe Calderon is out of office, the new administration is attributing the rise in violence to his hardline policies:
With the capture of dozens of drug capos, an achievement trumpeted by Calderon, "we have moved from a scheme of vertical leadership to a horizontal one that has made them more violent and much more dangerous," Osorio told the heads of the military and the governors of Mexico's 31 states...

Calderon repeatedly said before leaving office that his forces had captured 25 of Mexico's 37 most-wanted drug lords, a strategy backed by the U.S. government with hundreds of millions in funding and close cooperation with American law-enforcement, military and intelligence agencies.

Osorio Chong and President Enrique Pena Nieto have promised to adjust Calderon's strategy in order to move away from a focus on killing and capturing cartel leaders and toward a focus on reducing crimes against ordinary citizens, most important homicides, kidnappings and extortion.
During Calderon's term Mexico witnessed over 50,000 murders and 25 high-level drug trafficking organization (DTO) leaders were arrested or killed. In the latest draft of a working paper I estimate that this policy was responsible for about 900 additional murders, although this estimate is on the conservative side.
Another new administration official, Attorney General Jesus Murillo Karam blamed the leadership targeting strategy for fracturing the cartel:
Murillo Karam told MVS Radio that officials are working to identify all the country's 60-80 small- and mid-size drug trafficking organizations. In its last public evaluation of the strength of Mexico's cartels, the Calderon administration issued an August report naming only eight large drug organizations. It had, however, said that at least one cartel, the Beltran Leyva group, had split into smaller fragments after a government offensive that killed its leader.

Murillo elaborated on the new administration's critique of the Calderon strategy, holding it directly responsible for a rise in kidnappings and related crimes over the last six years.

"It led to the seconds-in-command, generally the most violent, the most capable of killing ... starting to be empowered and generating their own groups, generating another type of crime - spawning kidnapping, extortion and protection rackets," he said.
Dan Trombly points out that more but fewer DTOs may allow the new administration to treat counter-narcotics as a law enforcement issue rather than a military problem. Although this development occurred after the period examined in my paper, it is an interesting development that deserves further study.