Micro-Institutions Everywhere: Parking and Snow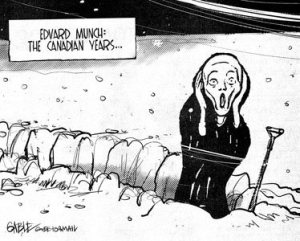 Jeff Ely reports the problem:
You dig your car out of the snow, run an errand or two and come back home to discover…someone else has parked in "your" spot! This free rider problem reduces your incentive to dig your car out in the first place. If only property rights could be enforced, your incentives would be good.
According to the Washington Post, some cities use the legal system, others employ norms:
Boston has codified its citizens' right to benefit from their backbreaking snow-clearing labor; a city law says that if you dig out your car in a snow emergency, a lawn chair or trash can renders the spot yours for at least two days while you're away at work. In Chicago, blocking a parking spot is illegal, but city officials acknowledge an informal rule of dibs if you've done the digging.
During the DC Snowpocalypse of 2010, residents were unsure which method was best. The desire for some level of temporary property rights was there, but enforcement methods varied:
"I know this is public property, but if you spent hours laboring, I mean, come on, I think you have the right to say that is my spot," said Tanya Barbour, who spent two hours Sunday shoveling free her silver Ford Expedition in the 1500 block of T Street NW. "If someone had clearly taken the time to shovel it out, I would not take that spot because I would not want that done to me."

Across the District and in the Maryland suburbs Monday, many were not relying on Barbour's honor system. Some used Boston-style markers -- lawn chairs, recycling bins, orange cones, a mattress, even two bar stools with a Swiffer on top -- to try to save spots along residential streets.
With Durham facing a forecast of "icy mix" for this afternoon, you can bet we here at YSPR will be on the lookout for emergent norms.