Politics of Beards: Post-Mubarak Egypt Edition
[caption id="attachment_2041" align="alignright" width="300"]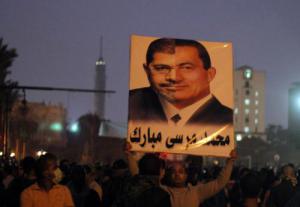 An Egyptian protestor compares Hosni Mubarak (right) with Mohammed Morsi (left). The poster's caption reads "Mohammed Morsi Mubarak".[/caption]
In Egypt, Muslim Brotherhood members generally tend to go with the full but well-groomed beard and moustache. However Salafists - the ultraconservative fundamentalist Muslims - like to let their beards grow long and wild, often leaving their upper lip clean-shaven as a nod to how the Prophet Mohammed wore his own beard 1,400 years ago.

Some within the Salafist camp take things an extra step and dye their beards with henna, producing a range of colours from maroon to bright pumpkin orange.

In a post-Hosni Mubarak Egypt, beards have made a big comeback. For years, beards were frowned upon as symbolic of the Islamist movements that Mubarak considered a threat to his reign. Government employees, ranging from police officers to EgyptAir pilots, were forbidden from growing a beard.

But now, civil servants across the country are are calling for the ban to be lifted. Suddenly wearing a beard in Egypt has become an issue of civil rights and freedom of expression.
From the BBC. You may also like our discussion of facial hair norms among Syrian rebels from back in December.