Micro-Institutions Everywhere: Around Your Waist
[caption id="attachment_2058" align="alignright" width="238"]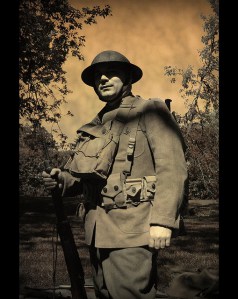 US soldier in WWI. Note the belt is used to carry gear, and is held up by a strap over the shoulder. The pants lack belt loops, which would not be invented until the 1920s.[/caption]
Men have always worn belts with their trousers, right? Wrong. Until the First World War, belts served one of two purposes. They could be a way for a ruler to accessorize, or an easy way for soldiers to carry around gear (a belt with pouches all around it for ammunition is essentially a manly fanny pack, after all). No one thought of a belt as a way to keep his pants up.
There are three reasons that belts became de rigueur around 1920 and not before. One reason for this is that until then tailoring was relatively inexpensive:
Logic or no logic, the fact remains that it was easier to develop special and general relativity than to imagine trousers secured with leather belts inserted into belt loops. That does not, however, mean that pre-20th century pants have been dropping off. Trousers were highly cut and waist-fitted to the contours of their wearers, as such tailoring adjustments cost pennies. Then, in the 1820s suspenders have been invented. From then onwards, even mass manufactured trousers could be worn without individual fitting (though tailors' services still cost pennies).
WWI brought with it the need for mass production of uniforms. Tailoring all those trousers was not feasible, and quartermasters sought to economize on cloth:
Mass production of uniforms for nationally conscripted armies in the time of war shortages forced national governments to trim as much material as possible. The trousers were made with such a low cut that suspenders became loose, and they needed to tie these funny trousers with a wide belt that was worn over the coat. Men discharged from the army got used to this silly fashion. Because the belts did not sit well on trousers, belt loops were introduced in the early 1920s.
Thirdly, those snappy waistcoats and vests that everyone wore before this were not just for fashion--they were hiding suspenders. Suspenders were regarded as undergarments, akin to a woman's corset. After WWI the waistcoat's popularity waned, and with it the use of suspenders. You can read more about these developments here, from which the above quotations were taken.
A daily habit for millions of men around the world turns out to be just another contingent fact of history. Even the things we take for granted are shaped by politics and norms. Who knew you had a micro-institution around your waist?