Leadership Targeting and Perverse Incentives
[caption id="attachment_2168" align="alignright" width="300"]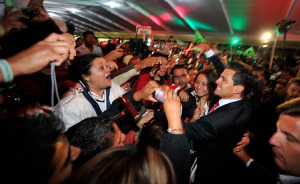 Enrique Pena Nieto with supporters. Photograph: Daniel Aguilar/Getty Images[/caption]
If targeting of Drug Trafficking Organization (DTO) leaders in Mexico has contributed to high levels of violence, as I argue in a working paper, then why hasn't the Mexican government stopped the policy? Under former president Felipe Calderon there were a number of possible answers, included the fact that his get-tough policy toward crime was a major part of his campaign strategy in 2006. But that does not explain why the policy has persisted under the new president.
When Enrique Pena Nieto won the 2012 election he promised that his crime fighting policy would aim to "reduce violence and above all protect the lives of all Mexicans." The new administration acknowledges that leadership targeting led to increased violence, and a number of experts seem to agree. So why hasn't the policy been changed?
The answer comes down to cold hard cash, and lots of it. US officials have been strongly supportive of DTO leadership targeting, echoing as it does the American policy of targeting terrorist leaders. And they have backed up that rhetoric with generous funding for Mexican security forces:
On Monday, Interior Minister Miguel Angel Osorio Chong said the strategy caused a fragmentation of criminal groups that had made them "more violent and much more dangerous," as they branched out into homicide, extortion, robbery and kidnapping.

The next day, Jesus Murillo Karam, the new attorney general, said in a radio interview that the strategy was responsible for spawning 60 to 80 small and medium-sized organized crime groups.

But just because the strategy has taken some hits doesn't mean it's dead. And Peña Nieto, who took office Dec. 1, is unlikely to kill it....

Peña Nieto is also unlikely to jeopardize the generous security assistance provided by the United States, which helped design the kingpin strategy. The U.S. is intimately involved in carrying it out, providing intelligence on drug leaders' whereabouts and spending millions to strengthen the Mexican security forces who act on that intelligence.

All of which probably explains why, shortly after the ministers' criticism of kingpin, a top presidential advisor told The Times that the new government had no plans to abandon it.

"That will not stop at all," said the advisor, who declined to be identified because he was not authorized to speak on the record.
One can appreciate the rock and hard place between which Pena Nieto finds himself. His party has been criticized for being in the pocket of the cartels, so he cannot afford to look weak. There are also the entrenched interests of the military and police to keep in mind--they have no interest in giving up power. Unfortunately for the tens of thousands of Mexicans who have lost their lives or loved ones to violence over the last seven years, their voice in the government has not kept his word.