Micro-Institutions Everywhere: Book ID Numbers
[caption id="attachment_2176" align="alignright" width="300"]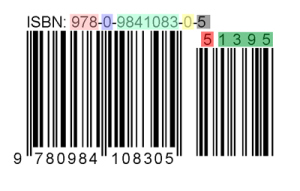 Pink identifies the prefix, current only 978 or 979. Purplse is the registration group element, identifying the geographical source of the book (1-5 digits). In light green is the publisher or imprint's ID, up to 7 digits. In yellow is the publication element for idenfitying the edition or format of the book. Highlighted in grey is the check digit, used to verify the number. "5" in red identifies US dollars as the currency for the price, highlighted in dark green.[/caption]
If you are a bookworm like me, you have evidence of this micro-institution all around you. Grab a nearby book and look at the back cover, or a couple of pages inside the front cover. You will see a series of numbers that uniquely identify the book: its International Standard Book Number (ISBN). That 10 or 13-digit number serves as the worldwide identifier for books, helping customers at online retailers like AbeBooks, Half.com, and Amazon be sure that they are purchasing the right reading material without physically inspecting the product.
Ironically, it is those same online marketplaces and their accompanying e-readers that now endanger the future of the ISBN. The supply of ISBNs is finite, you understand, and demand is high:
The International Standard Book Number (ISBN), invented in Britain in 1965, took off rapidly as an international system for classifying books, with 150 agencies (one per country, with two for bilingual Canada) now issuing the codes. Set up by retailers to ease their distribution and sales, it increasingly hampers new, small and individual publishers. Yet digital publishing is weakening its monopoly.

Publishers who were in at the beginning got great blocks of ISBNs. Many have plenty still in stock. Some countries, including Canada, Hungary and Croatia, make them free to bolster book publishing. But in Britain, America and Japan, where ISBNs are needed for any hope of mainstream publication, they are costly.
Self-published writers understandably do not want to pay for a costly ID number when they are making small margins off of an e-book. If they are only selling through a single retailer (say, an Amazon Kindle edition) there is little incentive to get a unique number--customers will be able to find the book without it. And alternatives are cropping up:
Amazon has introduced the Amazon Standard Identification Number (ASIN). Digital Object Identifiers (DOI) tag articles in academic journals. Walmart, an American supermarket chain, has a Universal Product Code (UPC) for everything it stocks—including books. Humans are also getting labels: the Open Researcher and Contributor ID system (ORCID) identifies academics by codes, not their names. And ISBNs are not mandatory at Google Books.
It is foreseeable that one of these options will emerge as a privately-provided institution, replacing the ISBN. The transition is unlikely to be smooth, however--switching equilibriums rarely is. As you trace your finger across an ISBN number on a printed page, you are not only touching a micro-instituiton. You may be holding history in your hands.