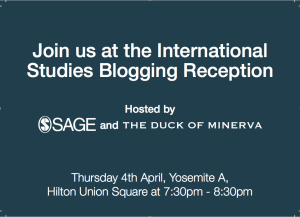 The International Studies Association is meeting this week in San Francisco. This will be my first time attending, so I found Megan MacKenzie's survival guide helpful. Here are some relavent Do's:
Do

 remember that a full-on formal business suit isn't necessarily the standard for men or women--especially if you are under 25.

Do

 keep a stash of protein/granola bars, fruit, yogurts in your room and in your conference bag.
And some Don'ts:
Don't

 follow the advice "ask a question at every panel, but start by talking about your research first."

Don't take it personally if the presentation you have been feverishly preparing has less than 3 attendees or it turns out you're on a smashemup panel with 4 other folks who do completely different things. (added by commenter Daniel Levine)
Safe travels to all who are attending, and maybe I will see some of you at the blogging reception.