[caption id="attachment_2273" align="alignright" width="300"]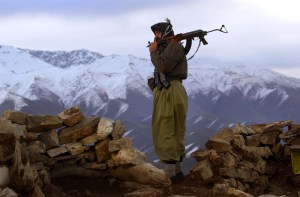 Kurdish peshmerga--literally "those who face death"--standing guard at Shenarwe Mountain[/caption]
Last week one of my academic heroes, James C. Scott, came to Duke to give two talks. The first was a lunchtime discussion of his recent book, Two Cheers for Anarchism. The second was a lecture elaborating on The Art of Not Being Governed. We have discussed the argument of the latter book here before. To oversimplify quite a bit, Scott says that the upland peoples of Southeast Asia consciously evaded the intrusion of lowland governments into their lives.
Scott recognizes that his argument applies outside of Asia as well, but does not delve into specifics. My favorite example of this is the Kurdish people, who are located in the mountainous region of northern Iraq, southern Turkey, northeastern Syria, and northwestern Iran. As Scott would say, they are at the periphery of several states and the center of none. It is also an increasingly strategic region, and Kurds find themselves in a position to shape the balance of power:
After decades of persecution and genocide, the Kurds have found a way to operate in a neighborhood where clear-cut borders can often be more of a nuisance than a boon. Loosely promised a state by the 1920 Treaty of Sèvres, the Kurdish people have learned the hard way that maps don't necessarily dictate facts on the ground, as any observer of Mideast history and politics can attest. "Though the Kurds are said to be the world's largest stateless people," writes Time contributor Pelin Turgut, "Kurdish leaders ... say they are no longer interested in a single Kurdish state but in a loose federation that spans various national borders." Rather than waiting for Mideast leaders or the international community to make a deal for a state, the Kurds seem to be playing a regional game of "Let's Make A Deal."
With the recent call for a ceasefire by PKK leader Abdullah Ocalan, Kurdish-Turkish relations appear to be improving. This is an important transition since until now Kurdish leaders have been closer to Baghdad than Ankara. Bashar al-Assad has recently increased Kurdish autonomy as he seeks their support in Syria's civil war. To take an optimistic view, this stateless people may soon find themselves playing kingmaker in the region.
See also: "The Kurdish Factor" by Matthieu Akins