The Political Economy of *Killing Them Softly*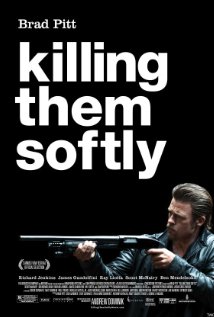 Over the weekend I rented Killing them Softly expecting a relatively mindless movie featuring Brad Pitt as a hitman. I was only half right. During several key scenes George W. Bush and his administration officials can be heard giving statements to the press about the financial crisis; Barack Obama is elected near the end. The man hiring Pitt refers to the "corporate mentality" of his bosses and tries to pay him less than he is owed. The plot centers around a gambling racket in New Orleans. Do you get the metaphor yet?
Yes, the movie is a cautionary tale about greed and risk in light of the 2008 financial crisis. The following quotes from an interview with writer and director Andrew Dominik make the connection clear:
[A]s I started adapting it, it was the story of an economic crisis, and it was an economic crisis in an economy that was funded by gambling -- and the crisis occurred due to a failure in regulation....

I always feel that crime films are about capitalism, because it's the one genre where it's perfectly acceptable for all the characters to be motivated by desire for money only. I always think in some ways the crime film is the most honest American film, because it portrays Americans as I experience them. Particularly in Hollywood, people are very concerned with money....

The film's not about Obama, it's about a crisis in the economy, and the people who have to clean it up.
Don't worry--the movie doesn't come off as hokey or the metaphor as forced. (The use of politicians as background audio is mostly in the first half.) It's a satisfying film whether you want the shoot-em-up I expected or something a bit deeper.
For more YSPR fun at the movies see these posts on Public Enemies and Moneyball.