More on Food Truck Regulation
[caption id="attachment_2413" align="alignright" width="300"]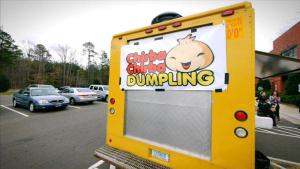 Popular Durham-area food truck Chirba Chirba serves dumplings. Photo via livewell.[/caption]
More on the plight of food truck operators in NYC, from the Times:
There are numerous (and sometimes conflicting) regulations required by the departments of Health, Sanitation, Transportation and Consumer Affairs. These rules are enforced, with varying consistency, by the New York Police Department. As a result, according to City Councilman Dan Garodnick, it's nearly impossible (even if you fill out the right paperwork) to operate a truck without breaking some law. Trucks can't sell food if they're parked in a metered space . . . or if they're within 200 feet of a school . . . or within 500 feet of a public market . . . and so on.

Enforcement is erratic. Trucks in Chelsea are rarely bothered, Nafziger said. In Midtown South, where I work and can attest to the desperate need for more lunch options, the N.Y.P.D. has a dedicated team of vendor-busting cops. "One month, we get no tickets," Thomas DeGeest, the founder of Wafels & Dinges, a popular mobile-food businesses that sells waffles and things, told me. "The next month, we get tickets every day." DeGeest had two trucks and five carts when he decided he couldn't keep investing in a business that was so vulnerable to overzealous cops or city bureaucracy. Instead, DeGeest reluctantly decided to open a regular old stationary restaurant.
We've discussed food truck regulations and the competition between vendors before. There is certainly a place for regulation, but inconsistent and seemingly arbitrary enforcement undermines the goal of clarifying expectations between all parties.